The results of the Art and Design department's Photography Competition are in!
The competition is in it's second year, supported by 'Strathaven CARS' (Conservation and Regeneration Scheme). We received more than 200 entries of a very high standard and the judges said that choosing the winning entries wasn't an easy task. We thank everyone for their time and energy in submitting excellent photographs.
Congratulations to Brooke A. (S5) who won 1st prize and receives £250, 2nd place is awarded to Adam S. (S4) who receives £150 and our 3rd place winner is Jennifer C. (5DU) who receives £100.
The judges also choose five highly commended winners receiving £20 Amazon Vouchers. Aimee H. (S3) featured twice, Emma S. (S4), Thomas W. (S5), and Ewan B. (S6).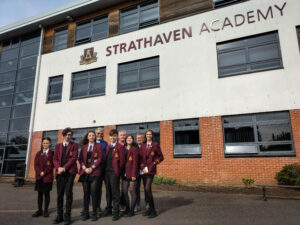 Congratulations to our winners, pictured above with the representatives from Strathaven CARS!