As you know, this week (1st – 7th February) has been Young People's Mental Health Week 2021.
The Art & Design department have been running a poster and photo competition based around the theme of the week. Using the theme 'Express Yourself' and continuing to consider the phrase ' Time to Talk', pupils have done an incredible job. Now more than ever, it is vital that we take steps to protect our own mental health as well as the people we care about. The Art & Design students have proven, not only their skill in developing a strong visual impact, but included some amazing words, statistics, slogans and advice. This, and the many other tasks and information sessions highlighted this week,  exemplify our young people's awareness of mental health issues and their readiness to look out for themselves and others, particularly at this challenging time.
We're pleased to announce our winning poster entry is by Zara W (S1)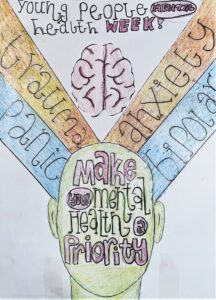 Well done to you Zara! A very strong, hand-drawn graphic design and a great message.
Also, our two very worthy runners-up are (in no particular order) Gus M (S1) and Isla V (S1)
Thanks to everyone who submitted a poster design and there were many incredible submissions. Here's a selection of the designs.
Along with the poster competition, we also asked pupils to submit photographs on the theme, 'Express Yourself'. The winning photo was by Emily S (S3)  and is a very thoughtful still life photo. Well done Emily!