Congratulations to all of our performers at the Young Musician of the Year Competition last night. All our pupils were outstanding and entertained the audience and our invited judges.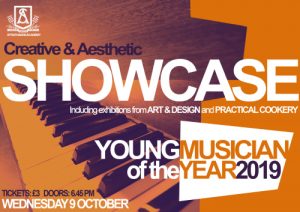 The results were as follows – 
Junior Vocalist – Winner – Skarlett B, Runner-up –  Ellis H
Junior Instrumentalist – Winner – Kyle K, Runner-up – Luke S
Senior Vocalist – Winner – Gregg C, Runner-up – Lucy W
Senior Instrumentalist – Winner – Niamh M, Runner-up – Emma C
See photos below by S6 pupils Eilidh M and Leah B.
As part of the Creative and Aesthetic Showcase, the Art and Design Department staged an exhibition, 'Show of Excellence', including former pupils incredible achievements in many forms of art, design and photography.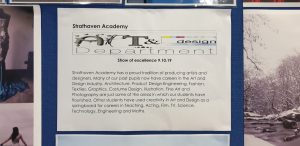 Our 'Health and Food' pupils prepared amazing creations to showcase their skills. This included very popular profiteroles with salted caramel topping and Italian oregano meatballs in a tomato dip. Our audience, staff and pupils enjoyed these delicious additions to the evening's showcase.