(Updates throughout December – see photo slideshow below) –
Christmas Concert Photos by Eilidh M (NPA Photography)
In the run-up to the Christmas holidays, Strathaven Academy has many events planned. Every year, the Art and Design department chooses a pupil's artwork for the Strathaven Academy Christmas card. This year, Arwen (S4) and Arabella (S6) have been asked to complete designs for the card and the Christmas Concert poster. The sisters have contributed so much to the Art and Design department over the years and have created some outstanding artwork.
The annual Strathaven Academy Christmas Concert takes place on the 11th of December. Rehearsals and preparations have been taking for a while now and the various groups, bands, soloists and performers have the opportunity to show off their talents in front of a live audience. The PTA also draw their annual raffle. The show features fantastic performances from the concert band, the staff/pupil choirs, ukulele, soul and guitar groups. Pupils are also performing a segment from this year's school show 'Legally Blonde'. Well done to all involved.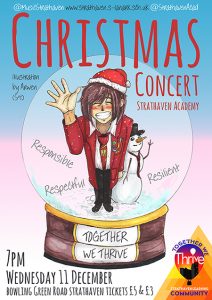 (Update – See photos from the event above)
On the 16th of December, Strathaven Academy hosts its annual Christmas lunch for the elderly members of our community. Around 80 guests are attending the event, managed and organised by Ms Huq and the Captain and Prefect teams. Our S5/6 Practical Cookery students are preparing two delicious courses and our pupils are providing some amazing entertainment.
Also on the 17th of December, S1 pupils are visiting the King's Theatre for the annual panto. Pupils anticipate a hilarious performance of 'Jack and the Beanstalk' and look forward to a great day out.
The PE department's new activities for this year include a Santa Dash for S1 and S2 on the 18th of December. Pupils are asked to donate non-perishable food items for hampers to benefit local food banks.
Our annual St Andrew's Hospice 'On Yer Bike' challenge takes place on the 18th as well. Pupils from all years, along with staff, are cycling for half an hour to raise money for the charity. The event is a success every year, and last year we raised over £800 for this worthwhile charity.
Thanks to all the pupils and staff for supporting our festive activities.