It's that time of year again when the Art and Design department launch their annual Christmas card competition. (See below a former pupil's winning entry)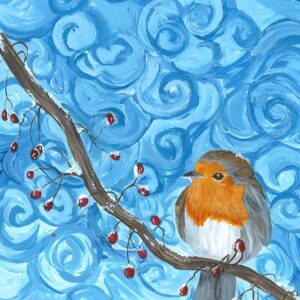 All entries to be handed (physically) to any of the Art and Design department staff with your full name and class by Week beginning – 5 December 2022.
Preferably no bigger than A4 size for scanning.
Image without text is preferable so we can add words later in Photoshop.
Head Teacher will choose the winning entry to be used in Strathaven Academy's Christmas card which will be sent throughout the community and beyond.
The image will also be used for the annual school Christmas Concert poster and festive events/advertising.
Thanks and good luck!