The Strathaven Learning Community attended the official launch yesterday of our shared vision and values. This included children, young people, staff, representatives of parents/carers and partners from across our Learning Community.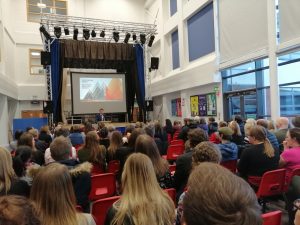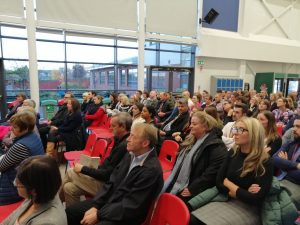 Over the past year, we have been working across the Strathaven Community to develop a shared vision and common set of values for the Strathaven Learning Community. Pupils, staff, parents/carers and partners from nursery, primary and secondary have contributed to this process. We started by looking at our common values and after much debate, consultation and collaboration, narrowed these down to our top three –
RESPONSIBLE, RESPECTFUL and RESILIENT.
A significant number of people from across our community then discussed, created and suggested vision statements that best describe what makes our learning community unique. Again we narrowed these down, then over 1000 people voted on which one they preferred.
Following this, our aspirational vision statement for the Strathaven Learning Community is –
'TOGETHER WE THRIVE'.
Around the festive period last year, children from all of our associated primary schools were involved in drawing their thoughts about Strathaven. They were asked to illustrate – 'What does Strathaven mean to me?' The most common themes were Strathaven Castle, the Balloon Festival and Gala Day.
The ideas and concepts from primary pupils were then developed by young people at the Academy, supported by colleagues in the Art and Design department. Current S2 pupils, Ellie and Emma, worked hard to develop this concept further.
Art and Design teacher, Mr Wellcoat, then supported the digital refinement of our logo. He continued to refine this idea, adding the Gala day inspired flag motif consulting with others along the way, to produce our Strathaven Learning Community logo and completed designs.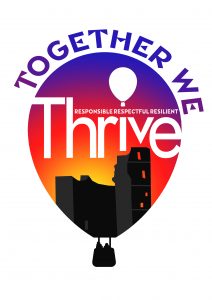 The completed designs will be displayed in each of our schools and used across the learning community, to promote our vision and values.
Pupil members of our joint Strathaven Learning Community Pupil Council shared, in their own words, what our shared vision and set of common values means to them. Groups consisting of primary and secondary pupils presented their thoughts on what the words and statements meant to them and were very brave to speak in front of such a large audience.
Thank you to everyone who has contributed to the creation of our vision and values. Mr Boyd and the Primary School Head Teachers recognise and appreciate the tremendous support provided by staff, parents/carers, partners and friends of the Strathaven Community. A particular thanks to our Parent Council and PTA representatives for their support and encouragement with this piece of work. Thanks to Mrs Martis and Mrs Kane for liaising with our primary schools and helping the Pupil Council representatives along the way. Thanks to the Art and Design department and Mr Wellcoat in particular, for his incredible hard work, enthusiasm and dedication to this project. Thank you to Ellie and Emma, and to all of the young people in the joint Pupil Council, particularly those who spoke at the launch, for being Ambassadors of the Strathaven Learning Community. Demonstrating our vision and values for all to see.
Today we launch our shared vision and values and we will work collaboratively to turn our shared vision into a sustainable reality. Our values give us a basis for the conversations and discussions we all have on a daily basis, and our vision helps to support and inform our decisions as we move forward together. We can be just as confident looking ahead to the future as we can be rightly proud of what we have already achieved as a Learning Community – Together We Thrive.

Mr Boyd – Head Teacher (Strathaven Academy)