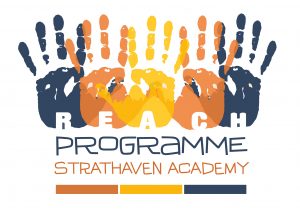 What is REACH?
Click here to download our REACH Leaflet
REACH is a programme within Strathaven Academy, which aims to improve educational outcomes for S1-S3 pupils.
We offer flexible and individualised support in the three main curricular areas of literacy, numeracy and health and wellbeing (HWB).
Through targeted interventions, pupils are able to enhance their basic skills, improve their confidence and develop their ability to work with others.
Our overall aim is to ensure equitable access and educational outcomes for our pupils.
Staff
Mrs E Wellcoat (PT Equity – Health and Wellbeing)
Mrs E Ferguson (PT Equity – Numeracy)
Mrs A Stott (PT Equity – Literacy)
Mr I Sinclair (PT Equity – Health and Wellbeing)
Events
Breakfast Club
Tues, Wed and Thur mornings 8.15-8.50pm (F040)
Learning Registration
Tues, Wed and Thur mornings 8.50-9.00am (library)
S1 REACH Showcase
Monday 20th Jan 2020
   16.30-18.00pm (library)
Please come along to our drop in sessions to chat with staff and have a look at what our pupils have been working on.  Refreshments will be provided.
Family Learning
We will be running a number of workshops throughout Session 2019-20 for families to come along and learn together. These may include:
Numeracy
Literacy
Cooking
Stress management
Mindfulness
ICT
All family members welcome.
Check back here for dates and times.